You are here

How Does Riskalyze Work?
How Does Riskalyze Work?
Knowing your risk comfort level can make all the difference in your planning. Imagine the shock if you think you're a conservative investor, but your portfolio is actually invested more aggressively than you thought! At Saratoga Financial Services, we offer a cutting edge technology that pinpoints your acceptable level of risk with unparalleled accuracy called Riskalyze. With Riskalyze, we can ensure that the risk in your portfolio aligns with your investment goals and expectations.
---
Capture Your Risk Number
The first step is to take a 5 minute quiz that covers topics such as portfolio size, top financial goals, and what you're willing to risk for potential gains. Then we'll pinpoint your exact Risk Number to guide our decision making process.
---
Analyze Your Portfolio
After pinpointing your Risk Number, we'll analyze your current portfolio and see how it aligns with your Risk Number. This will easily allow you to see if you are taking too much or too little risk for your tested comfort level.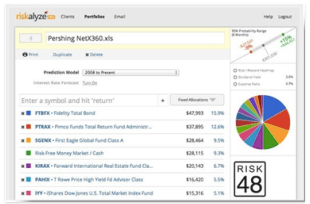 ---